Do you want to help create communication equality in Scotland?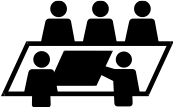 As a growing business we're looking for 2 more enthusiastic people to join our small Board of Directors.
We are looking for individuals who support our values and mission. We need people with legal, financial, people management and marketing skills.
We welcome people who understand information, express themselves and interact with others in different ways. We will communicate with you in the ways you prefer and find easiest.
For more information Download